Matt surprised me last night with huge box of fresh produce, along with a Deluxe Ninja Blender that I've had my eye on since my Magic Bullet blended it's last blend.
He's the best
and yes, that would be a large sweet potato that you see in the top right corner.
A very large sweet potato
I immediately washed all of my fruits and veggies for easy access, and a stir fry is definitely on the menu in the near future.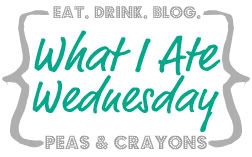 Breakfast
Greek Yogurt, 1 Tbsp almond meal, handful of blueberries and cinnamon.
Snack:
A golden delicious apple
Lunch
Spinach, carrots, celery, pea pods, bean sports and egg whites with brown rice and roasted red pepper hummus.
WORKOUT
35 minute treadmill HIIT followed by my Tens! Routine
Post workout Protein Pudding
1 scoop chocolate Sunwarrior Protein Powder

1 tsp unsweetened cocoa powder

water added slowly to thicken mixture
Place in freezer for 15 minutes
Dinner
Steamed chicken and veggies with sliced ginger
I can't wait to start juicing, baking and pureeing with my new blender!
Some boyfriends bring home flowers. Mine brings home produce and blenders. And I wouldn't have it any other way