It's been a while since I've done a post about my recent meals, so what better day than What I Ate Wednesday to write one!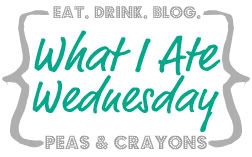 Since my schedule has gotten much more busy, and only getting busier, you can always follow my Instagram @JENAMAR1E to view my photos of food, fitness, and whatever else I am up to daily.
OK..ready, set, eat!
egg white oats with chia seeds, cinnamon, and blueberries
cooked and cooled oats, chia seeds, strawberries and cinnamon topped with plain Greek yogurt.
sliced apples and raw almond butter
pre-halved avocados. love this
chicken breast with Mr. Dash seasonings
Green Juice from Starbucks. Perfect grab and go snack.
egg whites, kale and ground cauliflower
plenty of veggies. All varieties.
Dandelion Root Tea. Will be posting about this soon.
and unsweetened passion tea. My go to warm weather beverage.