I have been inside studying all afternoon, wishing I was outside enjoying this beautiful weather. You can feel the crisp Fall air beginning to replace the warm Summer breeze. I actually had to use my heated seats this morning on the way to work!
Brrrr..
Luckily the day warmed up nicely and the sun-roof and windows were open by noon :). I'm not ready to let go of the Summer just yet!
So..I have some exciting news!
My blog has been nominated for Boston's Most Valuable Blogger!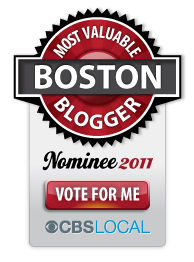 Squeal!
I was nominated in the Health and Fitness category, and I am so honored and humbled to even be considered for such an amazing title. 
You do not have to live in Boston to vote, and any support is extremely appreciated. I would be so grateful if you could take a second to Click here daily to vote for my blog. 
Thank you all so much! You mean the world to me! xoxoxo
Ok, time to gulp down this coffee and get back to the books! 
Have a fabulous afternoon everyone!