I am on a SERIOUS watermelon kick this summer.
Breakfast, snack, lunch, in my salads, in a cocktail, or simply blended into a deliciously hydrating juice, watermelon has been my go-to fruit since the hot temps have arrived here in Boston.
As for Matt, he has always been a watermelon lover, and last week while battling a case strep throat, he enjoyed endless amounts to stay energized and hydrated.
his cutting skills are off the charts..look at those perfect pieces.
SO, why is watermelon such a beneficial fruit? Let me break down for you.
Watermelon is high in Lycopene, which aids in cardiovascular health and bone health. It is the perfect pre or post workout meal because of its anti-inflammatory elements, high doses of antioxidants and electrolytes, as well as it's ability to improve blood flow due to the amino acid "citrulline", which is found mostly in the rind, the WHITE SECTION of the melon. 
In our body, L-Citrulline is changed into another amino acid called L-Arginine. Arginine improves the balance of nitrogen (nitric oxide), which causes our blood vessels to relax, expand, and improve blood flow.  This aids in the prevention of muscle fatigue, which then allows us to exercise longer and recover more quickly!
Watermelon is extremely high in vitamins and minerals, while low in calories due to its water content. It also helps reduce high blood pressure and blood sugar levels, which makes it the perfect diabetic friendly snack.
As a natural diuretic and cleanser, watermelon is our kidney's best friend. It helps increases the flow of urine, while helping the liver process anomia, which is a waste product from digesting protein. This gives the kidneys a nice break by easily flushing excess fluids without any strain from high amounts of caffeine and alcohol, something that our society struggles with daily.
Along with many other fruits and vegetables (citrus, leafy greens ,avocados,cucumbers) watermelon is also very alkalizing when RIPE. This is crucial for keeping diseases from forming in our body, especially if you are used to eating HIGH ACID foods such as eggs, dairy, and meats. These foods can lead to excess body fat, calcium deficiency (due to draining calcium from our bones, which causes us to shrink as we age), tooth decay, and a breeding ground for diseases to grow.
READ MORE ABOUT ALKALINE vs. ACIDIC HERE
When it comes to eye health, carrots aren't the only food that help protect us. Watermelon is high in beta-carotene, which gives it that beautifully rich color that can brighten any kitchen or mood. It will help also your skin stay plush and glowing.
One of the main reasons I overdosed Matt on watermelon while he battled strep throat was not only due to hydration, but because of it's high content of Vitamin C, which helps improves the immune system and prevents cell damage.
Not to mention it's a cold, refreshing snack that would feel great to any sore throat sufferer.
When choosing a watermelon, you want to make sure that it is ripe.
There are FOUR cues to look for when picking out a watermelon
1. Think HEAVY. Whether big or small, the watermelon should feel heavy when lifted.This also applies to all produce. It means that it is full of water, which is what you want.
2. Find the YELLOW spot. Lift your melon up and look underneath to where it was resting. If that spot is yellow, your good to go! In this case, your looking for a duller hue, rather than a bright green.
3. HOLLOW headed. Along with feeling heavy, the melon should also have a hollow sound. If it feels soft when you knock on it, that means it is under ripe. The watermelon should have a hollowness to it when knocked on.
4. What's it's SHAPE? The watermelon should have an even shape to it, which means that is got accurate amounts of sunlight and water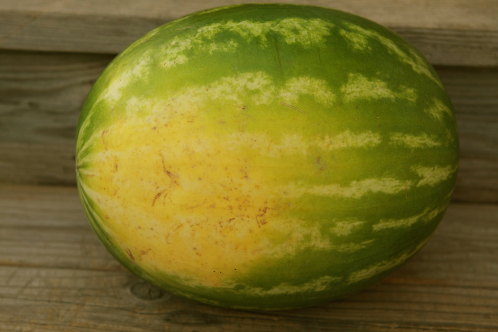 So the next time you have a bbq to go to, bring a watermelon as the perfect appetizer for all guests. It is best eaten alone, before consuming other foods, as it is quick digesting and will be easier on the stomach.
No matter how you slice it, you can guarantee it will be a hit.