My mom took me for a birthday lunch at The Brickyard yesterday afternoon, where I ordered one of the best salads that I've eaten in a while
The food here is always delicious, especially their crispy brick oven pizza, and the bar/lounge downstairs is the perfect place for a night out.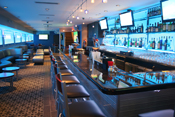 You literally feel like you are at a trendy Boston bar, but with plenty of parking, and less drunk people running around screaming.
I said Less..not None
For those of you in the Boston area, give The Brickyard a try for lunch or dinner, and  you can also find live entertainment Wednesday-Sunday evenings.
I had some extra time after lunch, so I fit in a workout at the gym that was "broken toe friendly"
There is not much pressure put on it unless it's stuffed in a sneaker, so I improvised and brought some dumbbells into my gym's studio, laid down a mat, and worked out in my socks
Sliding mountain climbers in socks….HELLOOO
Here's what I did: Barefoot and Crazy Cardio Circuit
Complete 1 minute of each move. Rest 30 seconds. And move on to the next.
Mountain Climbers

Squats

Mountain Climbers

Bent Over row

Mountain Climbers

Alternating Lunge

Mountain Climbers

Bicep Curl to press

Mountain Climbers

Tricep Kick Back
Next 10!
Ice Skaters

Push Ups

Ice Skaters

V-Ups

Ice Skaters

Plank Twist (knee to opposite elbow)

Ice Skaters

Plank Jacks

Ice Skaters

Bicycle Crunch
Stretch.
Then it was time for cake!
Glorious. There are no words.
27 is off to a great start.
What is your favorite birthday cake?