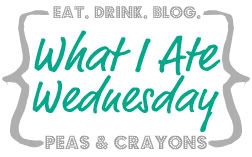 The time has finally come.
I am officially beginning to like the taste of SunButter.
Not that it's a big deal if I didn't like it, I just hate to waste food. I would have found a way to finish the jar, or snuck some into Matt's sandwiches to see if he noticed
Breakfast this morning
Banana egg white oats, topped with blueberries and a mixture of raw almond butter and sunbutter.
I like to try all different types of food, and it's good to have a variety of nutrients in our diet.
Since the summer is creeping up at a rapid pace, delicious fruits such as cherries, berries, kiwis and melons will begin to stock the shelves at grocery stores and Farmer's Market's.
All fruits and vegetables taste better when they are in season, and I like to incorporate all of them into my daily dishes.
I'm loving pineapple lately, and have been adding some to my yogurt and smoothies for a juicy hint of tang. Eating it frozen is delicious as well, and makes for a great night time snack mixed with some dark chocolate or cottage cheese.
I like to have variety when it comes to my beverages as well. I can only drink so much water.
Tea, Coffee, Naturally sweetened lemonade, ACV cocktails.
you can also make your own lemonade by combining water, fresh lemon juice, and a packet of all natural sweetener such as Truvia or Stevia. 
Here's a fun chart describing what Tea works best for you depending on your mood.
I also get plenty of vegetables in different forms throughout my week.
eggwhite omelet with kale, steamed broccoli and carrots, 1/2 cold sweet potato topped with melted coconut oil, which forms a hard shell of tropical bliss.
Mother's Day Kabobs, a favorite of mine in the summer months
I always grab the skewer with the most charred vegetables on it
Once we find what we like, it's easy to eat the same foods over and over again. However, it's important to give your body an abundance of nutrients from different sources to stay strong, energetic and glowing.
Start introducing a healthy variety of fruits, vegetables, proteins and fats into your diet to find what makes YOUR body happy.
Color is beautiful, Eat the Rainbow.