When we want to lose weight, we tend to hide inside of our favorite sweatshirt, hop on a piece of cardio equipment and proceed to run like hell in our own personal sauna.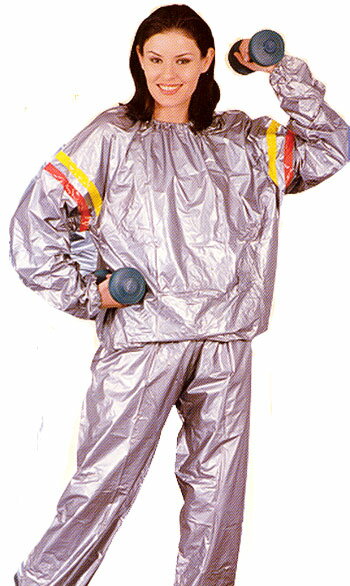 Sexy.
However, I firmly believe that when it comes to weight lifting, less is definitely more.
And by less, I mean less clothes.
After my Ab Circuit:
Think about it.
We workout because we want to SEE results, and what better way to see those results than to actually visualize your muscles doing the work?
Watching your abs contract, your biceps swell and your legs pump, is the ultimate motivation towards reaching your goals.
Now, I'm not saying to go workout on in a sports bra and underwear.
We don't want to give all those men a heart attack from your amazingly good looks
I'm saying not to be afraid to show a little skin for your own sake, and for a little added boost of confidence.
If your strength training in bulky clothes, it's hard to see if you're performing the exercise correctly. This can cause muscle misalignment, which hinders progress and increases your chance of injury.
Not to mention, it's almost impossible to get a good range of motion when an oversized sweatshirt is in the way.
There are plenty of classy and sexy workout clothes available for all shapes and sizes, so why not show off all of your hard work?
You've earned it!
Although I love lululemon and their amazing butt enhancing tendencies, I just can't fathom sweating my ass off in a pair of $90 yoga pants and an adorable $118 dollar zip-up.
I'd much rather wear them while running errands for a casual, yet active look.
In fact, most of my exercise gear is from bargain stores such as Marshalls, TJ Maxx and JCPenney.
Some of favorite brands include Marika, The Balance Collection, and Xersian.
Old Navy, Kohl's and Target often have some good deals as well.
No need to break the bank when breaking a sweat!
Find what style works for you and ROCK IT!  Use the mirror to your advantage, and watch those muscles work!
See the strong woman you want to be instead of the woman who you think you are.
You are beautiful. You are strong. You are YOU.
Love your reflection and watch your body change.