Fish Oil is only one type of Omega-3 with a plethora of benefits.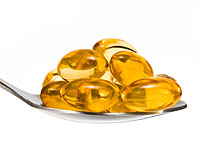 Our bodies cannot create Omega-3 on it's own, so it is crucial to incorporate these fats into our diet through certain foods and supplementation.
Benefits of Fish Oil.
Anti-inflammatory, which aids in muscle stiffness, tenderness, and disorders such as rheumatoid arthritis.

Reduces the risk of heart disease, stroke, high cholesterol and high blood pressure.

Protects against cardiovascular disease

Inhibits the growth of plaque and blood clots, which can lead to clogged arteries.

Helps maintain cognitive function, improves eye health, reduces the risk of depression and promotes a sense of emotional well being.

Improves metabolism, hunger signals, and exercise results in terms of weight loss and body composition.

Aids in the prevention of prostate cancer, testicle/ovarian cancer, colon cancer and breast cancer.
Omega 3′s should also be part of a pregnant woman's diet to help aid in positive fetal growth and development.
Other forms of Omega-3′s include;
Flax seed, Chia Seeds

Walnuts, Nut Oils, Avocado

Soybeans

Wild Caught Tuna,Salmon,Mackerel, Halibut, Sardines,Shrimp, Scallops and Anchovies

Kidney and Pinto Bean

Spinach, Winter Squash, Broccoli and Cauliflower
Do not fear healthy fats. Our bodies need them to properly function, grow and recover.
Plus, they taste good!
I am about to open a brand new jar of my favorite monounsaturated fat as we speak
Crunchy, Raw Almond Butter
Added to a heated sweet potato with a dollop of Greek yogurt.
Perfection.
Click here for more information regarding the benefits of fish oil, and other powerful Omega-3 foods