The popular fast food chain McDonald's has been under intense scrutiny due to their high sodium, saturated fat filled "Happy Meal" that is contributing to obesity in our future generation.
Oh…Welcome to reality.
The angry parents of America and the pressure to comply with the Council of Better Business Bureaus Food Pledge, which will take place in 2012, has caused the less than nutritious "Happy Meal"  to take a step in the right direction.
A baby step.
This has sparked quite a discussion throughout the nation and opinions have been spewing like rapid fire.
Here's the scoop…
Beginning in September of this year, McDonald's legendary "Happy Meal" will be undergoing a minor makeover by decreasing it's calories and portion size by 20%. The amount of fries will change from 2.4 ounces to 1.1 ounces, and apple slices will become an automatic addition as a side. The ever so popular caramel dip has been eliminated, and an addition of 1% or Fat Free milk has been added to the list of beverage choices.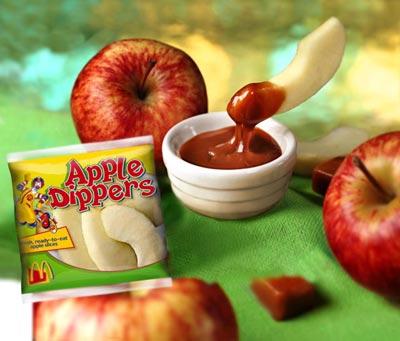 Not to worry! Per parents request, soda will continue to be an option on the drink menu, along with water, juice, and chocolate milk.
I hope they understand that when their kids choose soda, they have just piled back a boatload of calories and sugar that had been eliminated through portion control.
How ironic.
By the year 2015, the plan is to reduce the sodium content by 15%, as well as the sugar and saturated fat content on all menus by the year 2020.
So…only 9 more years of poisoning our children? No big deal. By that time they will have already progressed to the adult menu.  
While I do give credit to this small step, and believe that treating yourself to a cheeseburger on occasion is perfectly acceptable, the Fast Food chain is anything but ignorant when it comes to motives.
McDonald's is completely aware of the recent outbreak in health education that has taken over the U.S. The importance of a balanced diet has become a popular topic in every newspaper, magazine, and product on market.
From talk shows promoting healthy diets, to series such as "Too Fat for Fifteen" and "Jaime Oliver's Food Revolution", what better way to show your commitment to children's health than to offer a portion of their daily fruit intake?
Right alongside a greasy cheeseburger, chicken nuggets and fries
If only the cure to Obesity was as simple as an apple a day.
Sadly, the only thing consumers will hear in regards to this change is "Apple" and "Calorie-Cut". Suddenly McDonald's has prevailed. It is now the perfect choice when there is no other option available at mealtime.
Genius.
This is where I get a bit irritated.
By advertising this slight change to a still unhealthy meal, McDonald's is linking it's name into a Health Food category through the power of fruit. Children will hear "smaller portion" and "apple slices" and think that they are making a good food choice, when in fact, they are consuming artery clogging grease and fat. 
That is like telling children "It's okay to smoke a cigarette as long as you immediately brush your teeth and mouthwash when your done."
It's crazy. Adding fruit to this meal is not going to fix the problem.
And whose to say that the "Happy Meal" consumer will be consuming the apples? The trash can may see more action than their tiny tummies.
We are giving credit towards something that does not yet deserve it.
Instead of just cutting back on calorie's, how about taking it a step further and changing the ingredients? How about offering baked sweet potato fries and whole wheat buns? Adding more vegetables, such as carrot and celery sticks with yogurt or peanut butter dip. Even offering turkey or veggie burgers for our vegetarian tykes..
It's simple changes that have a big result. Kid's deserve options, just as adults do.
On the opposite side of the spectrum, parents cannot rely on Fast Food restaurants to provide their children with a healthy, well-balanced meal. McDonald's priority is not to cater to the health of your children. It is a business who strives on profit, and the profit comes from consumers purchasing foods that they enjoy. 
After all…the "Happy Meal" is a legacy and most prefer to keep it original.
Whether our meals come from a fast food joint or the freezer section of a market, we live in a society that strives on quick and easy. It is up to the parents to change this, and give their children the tools that they need to make better choices. 
It is important to learn and teach the right ways to eat. This is the only way to save this country from a future of Heart Disease, Cardiovascular Disease and Diabetes.
Start researching. Start packing lunches. Start being an example for our future. Their health depends on it.